In the following help article, we explain how you can easily contact Taxdoo's customer service and get a simple overview of the processing status of your already submitted requests.
Here you can find the section that suits you best:
How do I contact Taxdoo via the Help Center?
Log in to your dashboard using the following

link.
Note: If you have forgotten your password, you can use the same link to click "I forgot my password" or simply click here to reset your password.



Click on "Help Center" in the left column to enter our Help Center with numerous help articles.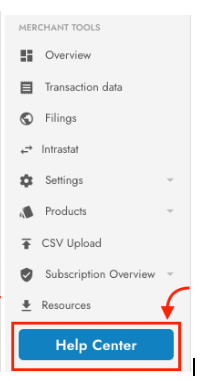 3. Now search our Help Center for posts that might answer your question. Just type your question or topic into the search bar. It is sufficient if you search for a word that covers your question. Based on your input, the most relevant help articles will be displayed.
Important: Some help articles are exclusively accessible to existing customers and will only be displayed to you if you are logged in. Therefore, make sure you are logged in at the top right of the Help Center to fully use our Help Center.
Tip: Use our handy web widget that shows you the ten most relevant help articles based on your search input. Just click on the "Support" button at the bottom left of the Help Center.
If you have not found a suitable help article or want to contact Taxdoo directly, you can click on "Submit a request" in the upper right corner.

Now the contact form opens. Describe your request as detailed as possible, and fill out at least all mandatory fields to be able to submit your request.
Note: If you use our web widget, you can click on the "Contact us" button after entering your search to get to the contact form.
Important: Make sure that your client number is entered correctly and that your email address has been added for this as a user, so that your request can be fully processed by our customer service staff. Here, among other things, is described how you can be added as a user.
After you have entered all the required information and clicked on "Submit", one of our employees will take care of your request as soon as possible.
Where can I view the processing status of my submitted requests?
Log in to your dashboard using the following

link.

Click on "Help Center" in the left column

Now click on the arrow next to your profile name in the upper right corner and then on "My activities".

Here you have an overview of your already submitted requests and those in which you were put in the CC.
Important: Create a new request for each concern, as these could be processed by different departments. This way, you will always receive the fastest possible response to your request.
How do I get customer service by phone?
Do you need individual help and support in using our product or do you have customer enquiries that you would like to clarify in a personal exchange?
You can reach us from Monday to Friday between 9:00-16:00.
You can reach our high-quality support, which we offer through our trained experts, at the following telephone number: 0-9001-829366 (2 EUR/minute, different costs from mobile networks possible).
Our Premium Package includes telephone support.